MMDVM Multi-Digital Repeater (C4FM/D-Star/DMR)
147.320 MHz (+ offset MMDVM Repeater running D-Star and DMR modes)*
Wires X AMS Repeater (C4FM & FM)
444.850 MHz (+ offset & 162.2 Hz PL tone & Mixed Mode with Wires X)*
*Tone-Sql is Suggested on 70cm repeater and Digital use only on the 2 meter Repeater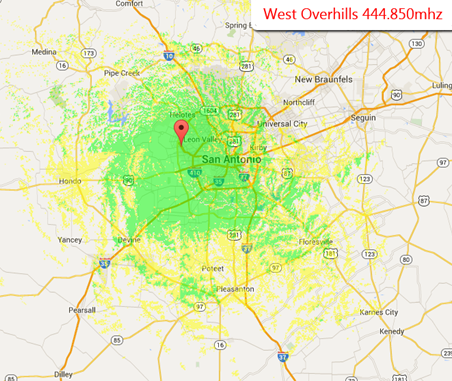 The 70 cm repeater is manufactured by Yaesu and operates on Automatic Mode Select (AMS / Mixed Mode) that are capable to operate in either FM or Digital modes. The equipment was donated by club members in March of 2015. The repeater is linked with Wires-X and is open to the public to go to His/Hers preferred room for about 30 minutes until the link resets itself.
The 2 Meter Repeater is a Yaesu System Fusion repeater is with MMDVM (Multi Mode Digital Voice Modem) that operates in a Digital Only Modes. The MMDVM allows the repeater to operate in C4FM, D-Star, and DMR Digital Modes. This repeater supports APRS.
DMR Mode the Repeater Uses:
Color Code: 1
Time slot 2 is used for local/regional Talk Groups
TG 2 is for Local Communications (Non-Networked)
Time slot 1 is used for National/World Wide Talk Groups
We ask that your RX List should include TG 2 in every Channel/TG programmed so your can receive Emergency or Priority Traffic.
D-Star Mode the Repeater Uses:
YOUR: CQCQCQ or your reflector of choice
RPT1: AA5RO C
RPT2: AA5RO G
MY: <your callsign>
System Fusion (C4FM) Mode the Repeater Uses:
Standard DN & WV modes. It also has it's own version of Wires -X that will allow you to connect to a YSF Reflector.
Both Repeaters are Yeasu System Fusion DR1X repeaters.